Kansas City votes 'yes' on public bus funding by renewing sales tax for another decade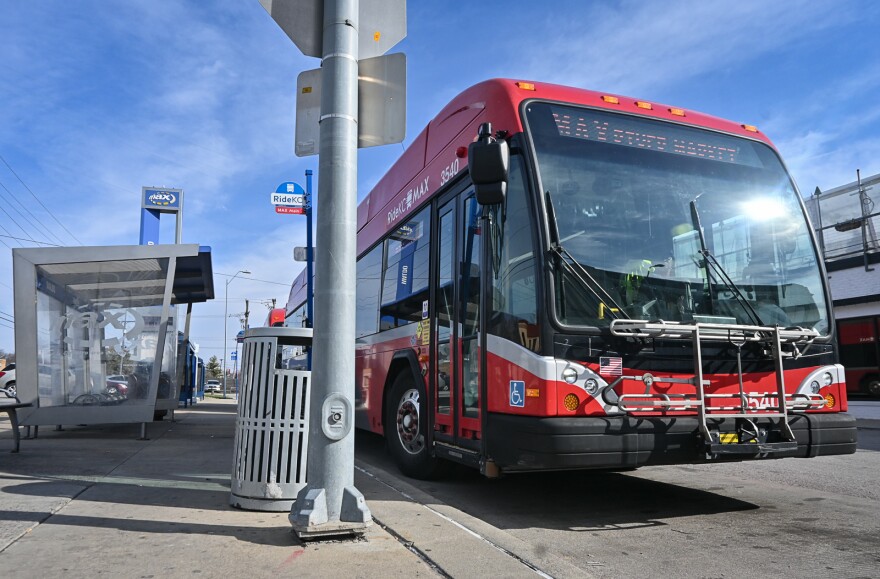 The three-eighths cent sales tax is one of the largest sources of local funding for the Kansas City Area Transportation Authority.
Kansas City voters on Tuesday overwhelmingly approved renewing a local sales tax to fund public transit for the next decade.
The three-eighths cent sales tax renewal passed with 73% of the vote, according to unofficial results from the Kansas City Election Board, Platte County Election Board and the Clay County Election Board. Voters in the Northland approved the tax by 62%. South of the river, voters passed the tax with 77.7%.
Nicholas Miller, president of the Local Amalgamated Transit Union, said renewal of the tax will help improve bus service.
"It says that the public is behind public transit right there, and it's something that they know that is very important," he said.
Turnout on Tuesday's election was 10% in the Kansas City portion of Jackson County. In Clay County and Platte County turnout was at 8% each.
Renewal of the transit tax means Kansas City consumers will continue to see a 0.375% sales tax on retail sales of property or services. Kansas City collects that money and then allocates it to the Kansas City Area Transportation Authority.
"Thank you once again to the people of Kansas City," Mayor Quinton Lucas posted on X, formerly known as Twitter. "Your votes to support transit have helped support another decade of investment in mobility and connection for all in our community. We appreciate your trust and will continue our work to build the best system in America."
Anthony Cunningham is a member of the Kansas City chapter of the climate action group Sunrise Movement, which advocated for renewing the tax. He does not have a car and frequently uses the bus to get around.
"This was just the first step in expanding and making sure a public transit system is as world class as everyone says the city is," he said.
With the three-eighths cent sales tax and another half-cent retail sales tax, Kansas City is the region's largest financial contributor to the KCATA. Money collected from the sales tax makes up close to one-third of the KCATA's revenue — the largest source of local funding for the transit agency. The current sales tax has generated about $371 million from 2010 to this year, according to officials.
If Question 1 had failed, the KCATA would havefaced huge budget challenges, and officials said the agency would have had to lay off around 100 workers, cut weekend and night service on some routes, and eliminate other routes entirely.
"It's very important that we have a very robust transit system because we're gonna be hosting the World Cup," Miller said.
Officials estimate the tax will bring in about $421 million over the next 10 years.
Other ballot questions
Voters living Jackson County saw two other questions on their ballot: approval of tax on some online purchases that would fund road and bridge construction, renovations to the courthouses in eastern Jackson County and Independence, and financial help for people experiencing homelessness; and removing some land from the Kansas City's Parks and Recreation Department.
The Jackson County use tax failed to pass, with 59% voting no. While the tax was approved by Kansas City voters, it failed by 74% in eastern Jackson County.
And with 63% in favor, Kansas City voters chose to remove five acres of land from the city's Park and Recreation system.